This piece profiles Michael Schumacher, a returning Seattle Festival of Dance Improvisation (SFDI) 2014 Teaching Artist.
The Seattle Festival of Dance Improvisation is a week of dancing, dialogue and discovery. For me personally, SFDI is an opportunity to connect to new artists and feed established friendships. One of the artists that I am humbled to call a friend is Michael Schumacher, whom I am so thrilled to see again at SFDI this summer. Schumacher has called many places home: Lewiston, Idaho where he grew up, New York where he received his BFA from Juilliard and danced with Twyla Tharp Dance, and then all across Europe while dancing with Ballet Frankfurt, Magpie Music Dance Company and Pretty Ugly Dance among others. Schumacher is a dancer, choreographer and improviser, and often his work circumnavigates all three. As a choreographer Schumacher has worked with Ballet Frankfurt, Dutch National Ballet, Nederlands Dans Theater II, Jiri Kylian and Sabine Kupferberg.
During SFDI 2013, Schumacher taught an intensive, "Improvisation + Instant Composition," and a drop-in class that offered a taste of the intensive. He performed an improvised duet with his brother titled "From the Bench" at the SFDI Faculty Performance, and gave an unforgettable seven-minute improvised 'movement lecture' about his current interests at the SFDI Lightning Talks. Michael was well-loved at the festival for his gregarious personality—he constantly welcomed others into his love for movement and improvisation.
In the spirit of instant compositions, Michael and I engaged in an interview score on composed conversation: one-sentence questions and one-sentence answers. As with improvisational dance scores, our conversation ventured beyond the parameters we had placed on ourselves, and wove in and out of tangential, but applicable material, circling round to a satisfying ending.
Peterson: What is your full name?
Schumacher: The ant is slowly progressing its way towards the table.
Peterson: Where do you currently reside?
Schumacher: Michael Scott Schumacher.
Peterson: What led you to instant composition as performance?
Schumacher: Bike riding as a young boy.
Peterson: What tools do you think are necessary to function in an instant composition performance?
Schumacher: I think that…you know…Yea, the pursuit of greater awareness and conscious presence, the dance as total sensory perception.
Peterson: Are those the tools that you try to focus on in your classes?
Schumacher: Yes, in a word.
Peterson: This is a total curiosity, um, have you ever worked with people with sensory disabilities?
Schumacher: Yes, people who have been deaf, one guy who was blind. And a lot of people with colds.
Peterson: Did that open any new doors for you?
Schumacher: Not doors per se, but windows for greater ventilation and expansion of my experience.
Peterson: Have you been instantly composing your whole dance career?
Schumacher: No. The ant has not reached the leg of the table yet.
Peterson: When did you begin?
Schumacher: Let's see…hmm…. When I left my life as a professional dancer.
Peterson: What are you now?
Schumacher: A professional gypsy/vagabond.
Peterson: Does your vagabond-ness affect your work?
Schumacher: Absolutely. This vagabond life takes me to work, and places of work with a wide variety of artists and disciplines.
Peterson: Are you an interdisciplinary artist?
Schumacher: Yes—I think, therefore I speak, therefore I listen, therefore I sing, therefore I dance.
Peterson: What was the title of your duet with your brother?
Schumacher: "From the Bench".
Peterson: How long have you wanted to collaborate on a piece with him?
Schumacher: From the time that I was playing drums and he was playing piano in the music room in our house when we were 13 and 14. I could go on about that for a long time.
Peterson: What did your mother think?
Schumacher: Oh you know, she was totally supportive, for her it was a dream come true, us working together.
Peterson: Where do you go after this?
Schumacher: I go back home to visit my mother and brother for a few more days, and then after that to Amsterdam for a couple days, and then to Shanghai to make a new piece with Jin Xing Dance Theatre.
Peterson: It sounds glamorous, is it?
Schumacher: It is in a way, their company has gained notoriety and funding outside the government, so they're not beholden to the government on how to behave or how to do art, so it is a glamorous environment.
Peterson: So you're setting a piece on them?
Schumacher: No, I'm creating a piece with them, based on the complicity and alienation engendered by the use of smart phone communication, the smart phone as a source of light, sound, video, and as a photo instrument.
Peterson: Where will you start?
Schumacher: Probably with the light of the phone, there are a few apps that work with light, I like to begin with light because it creates a palette and scenes. I have a duet I'd like to do where the dancers are texting while dancing together.
Peterson: What do you call your work (in relation to improvisation versus choreography)?
Schumacher: In terms of the structure and interaction of the performers, I won't know what it will take until I meet them and work with them. I don't have a formula, I don't have a pre-described template, it always depends on the people I work with and what their needs are, what their sensibilities are, how best to bring them alive in the work, and them bring the work alive.
Peterson: If it's all about them, then how do you come into the picture?
Schumacher: Framing and fishing, there's always fishing going on—casting out an idea, and someone grabbing on, gobbling it up, digesting it, and spitting it out and then it evolves, and I am involved in helping develop that. Then I do have a voice, I have something to say.
Peterson: Anything else you want to say?
Schumacher: The ant is crawling on your leg.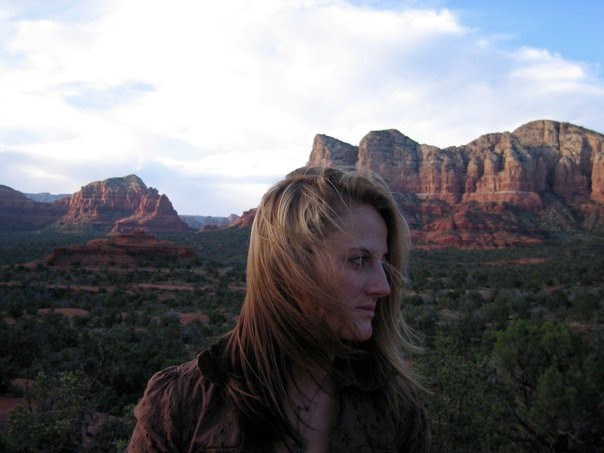 Britta Joy Peterson is a Minnesota native, where she grew up in the thriving Minneapolis arts community. As a dance maker, teaching artist + scholar, Peterson works primarily in postmodern contemporary + jazz forms with special interests in creative practices + somakinesis. She holds a BA with majors in Dance + Communications from Gustavus Adolphus College, and an MFA in Dance from Arizona State University. Peterson's choreographic + performance work has been seen in Minnesota, Wisconsin, California, Arizona, New York, Washington, Colorado and New Zealand. bjpdance.com
Photo by Yana Paskova for The New York Times