Dear friends:
Considering fundraising a creative act and part of making new work (rather than something desperately akin to pulling teeth) is my goal.
In the spirit of clouds and of dance, I have decided to hold an ephemeral sale in support of my current project, cloudland.
Since dance leaves no object behind, I am photographing objects that are a part of my life and my dance making – things on my desk, in my home, things I use in the studio, things I have touched – and am offering them up for purchase. Relational aesthetics has been mentioned. A house party and auction is also being considered. "Meg Wolfe is crazy!" has been heard. Eccentric, perhaps.
Please peruse my humble objects. Select and buy. They are available (or not available) for a limited time. All donors will be listed on my website and in documentation of my new project, unless you prefer to remain anonymous. A non-ephemeral catalogue will be printed at the end of the project with donor names and a list of objects purchased, as well as documentation of the new work made with your generous help. If this interests you the catalogue can be purchased in advance.
Thank you for participating in this ever-fleeting dance,
Meg
INITIAL OFFERING
item #1:
almost gone spool of thread, $75.
Purchase this item, either to remain on my desk until used, or for me to deliver to you next time I see you. You can use it, or return it.
It may have magical powers. It may just be old thread that will snap.
This may also be magic, depending on what it is holding together, and the timing of when it breaks. You could use this thread on your Halloween costume – it is Spider Black.
The needle is included.
item #2:
my library card: $250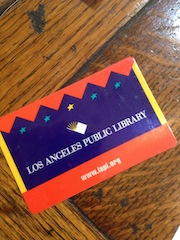 I don't really like to do all my research online. If you purchase this card to donate for my continued use, perhaps it will give you some small joy to imagine me wandering through the fine libraries of Los Angeles – or you could join me, and we could not talk and do research together.
item #3:
coffee-stained, returned postcard, $50
This is a rare item. As you can see, I don't send things by mail very often. Limited edition, and collectible – I put my coffee cup on it! You may donate this item for me to toss in the recycling bin, thus clearing space for new things. Or it might be your address and perhaps we can reconnect? Where are you? I haven't updated my mailing list yet. We can meet for coffee or I can send it to you to deposit in your own recycling, after you find out about the great show you missed.
item #4:
hand-made, red sequined thinking cap by SDS, $2,500.
Available for donation for Meg Wolfe Dance Projects use only, as it is activated for my current project. However, if you donate money for this, I might be able to meet you somewhere and you can wear it for a little while and receive some transmissions. I'm sorry, I can't lend it, it is too valuable, and uninsured.
Your donations are fully tax-deductible – AND you can double your donation right now, because CCI will match all donations made before October 31st.
visit www.megwolfedance.org to DONATE NOW
(THIS IS ACTUALLY REAL. YOU CAN STILL DONATE NOW, THOUGH YOU WILL MOST LIKELY BE READING THIS AFTER THE CCI MATCHING GIFTS PERIOD IS OVER, I CAN ALWAYS USE YOUR HELP. THANK YOU!)
Meg Wolfe is a Los Angeles-based choreographer/performer, the founder and artistic director of Show Box L.A., and co-editor of itch Dance Journal. www.megwolfedance.org